'Sculpture by The Sea'
Bondi, is an annual event held along the coastal walk from Bondi to Tunnamurara in Sydney. (For those who don't know: Bondi and its surrounding suburbs is where most of the Sydney Jewish community live.)
It is Australia's largest annual outdoor 'free to the public' exhibition of contemporary sculpture attracting over 400,000 visitors each year. For three weeks sculpture by the sea features sculpture designed by artists from around the world.
This year is the tenth annual exhibition, featuring 108 artists from 15 different countries and will run from tommorow 2nd - 19th November.
Here is a sneak preview of some of the sculptures and some of the artists adding their final touches.
Above: I think this one is my favourite: Catherine Higham's "Banksia Refusiphila"
Above: Bill Ogilvie's "Little miracle"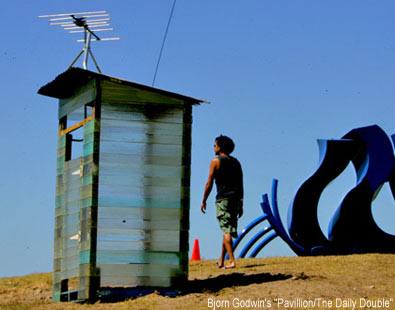 Above: Bjorn Godwin's "Pavillion/The Daily Double"

Above: Jarrod Taylo's "Structural Wind"
Above: Charmaine Grace's "Vortex"

Above: Chris Leaver & Emma Parker's "Amphitrite falls"

Above: Margarita Sampson's "Big Mamma & the kittens"

Above: Bronwyn Berman's "Wind spiral II"
Above: Professor Phillip King's "It's a swell day for stormy petrels"

Above: Peter Tilley's "Uncertainty of an idea"
Technorati Tags -
Sculpture By The Sea ~ Sculpture ~ Bondi ~ Bondi Beach ~ Tunnamurara ~ Sydney ~ Exhibition ~ Art Exhibition ~ Photos ~ Weblog ~ Blog
.... Just another day ....